The position of your website on the major search engines often plays a crucial role in how many people actually visit your website. According to a recent Forrester report, the channels by which people find someone's website break down as follows:



INTERNET CHANNELS

Search engines

57%

Email messages

38%

Websites links

35%

Banner ads

7%

OFFLINE CHANNELS

Word of mouth

28%

Magazine ads

25%

TV ads

14%

Periodical articles

11%

Vendor catalogs

11%

Newspaper ads

9%

Radio ads

2%

Mail ads

2%

The percentages represent how many people use each channel to find websites. Because people use multiple channels, the percentages don't add up to 100%.
Based on such statistics (as well as our own experience with what works), we almost always recommend our Search Engine Promotion Program as the first step in marketing a website. (We also offer other online marketing services, as appropriate, such as email newsletters, banner ads, links from other sites, etc.)
INCREASING YOUR SITE TRAFFIC VIA THE MAJOR SEARCH ENGINES
Here are the key facts about search engines upon which our programs are based:
More than one web page from your site can be submitted to a search engine.

Given this, the front page need not bear the burden for catching everybody on every search engine with every key phrase. (In fact, having more keywords works against you in terms of ranking.) Other pages on your site can be adapted (or even created from scratch) to optimize for different key phrases and even different search engines.

We find it useful to illustrate what we do using the "stock investment" metaphor of a "diversified portfolio". By diversifying:

the major search engines from which you are drawing traffic;

the terms/doorway pages by which you are drawing people to your site;
you avoid putting all your eggs in one basket. If your listing relative to a particular search phrase drops on a particular search engine, presumably that in itself won't be a disaster, because you have all the other search phrases bringing in traffic for you as well. But even should all your listings take a dive on one search engine this month (e.g., due to a major change in the workings of that engine), it is still not a disaster, because all the other search engines are still working for you.

Comparison
Many other search engine promotion services focus on the quantity of search engines they submit to, as though that in itself is worth something. But the fact is that 95% of all search engine traffic is brought in by the top 15 or so search engines. In order to submit to 500+ sites and charge as little as they do, of course they do automated submission. This is not a bad way to go for most of those search engines (since their contributions don't make much difference anyway), but this is a terrible way to go for the top search engines. You'll see that our search engine submission process is "by hand", very sensitive to the search engines, and can involve multiple submissions over a multi-month period, and uses direct submission to the search engines as a last resort for letting them know about your site.
Also, most services don't submit multiple pages, just the front page. They are failing to take advantage of some very valuable opportunities!
Most importantly: most such promotion services don't tune the pages on your site (or create new pages) to best support greater search engine visibility. They take your site as is.
So our recommendation is that you focus on getting the best possible rankings on the top search engines (which is the goal of our service).
DON'T BE FOOLED! Many products or services claim to submit you to HUNDREDS or even THOUSANDS of sites.
FACT # 1: What they don't tell you is that most of those sites have no other purpose than to collect e-mail addresses from web marketers so they can flood your inbox with spam mail. It's the top 15 or so engines that generate over 95% of the search engine traffic. Therefore, the KEY to gaining traffic to your site is not how many no-name engines you submit to, but having the best means possible for achieving high rankings on the major engines.
FACT # 2: Submission is the least of what is involved in effective promotion of your site on the major search engines. Almost all the work involved has to do with re-coding your web pages to make them attractive to the search engines (or adding new "doorway" pages that are "attractive"). Submission of your site to major search engines is also the last resort of those who know the art of search engine promotion, and who therefore know that many major search engines DISCREDIT you somewhat for submitting your site to them. They look to FIND your site on the web by following links from other sites. Finding your site in that way is an indication to them that yours is a popular site that interests many people. If you have to SUBMIT the site to them, it is, in their eyes, an admission that you can't be found by them otherwise, and they lower your rankings accordingly.
Note: Later submissions to search engines have to compensate for the results that came from less informed earlier submissions (particularly Yahoo, where typically you are stuck with the results of the first submission effort forever). So it pays to use the most informed approach from the beginning!
Here are the primary search engine promotion programs that we offer:
We have helped many clients increase the traffic to their site many times over, through these programs, and our other marketing services.
PROGRAMS 1, 2, and 3 focus on improving your existing website, in a way that greatly improves your chances of getting good listings. PROGRAM 4 then uses the most intelligent approach for getting the pages on your site on the search engines. PROGRAMS 5 and 6 focuses on maintaining and improving your listings. The following table illustrates some common combinations of our programs:
MOST COMMON PROGRAM COMBINATIONS

STAGE 1

STAGE 2

STAGE 3

preparation of website for search engine submission

intelligent
search engine submission

maintenance, improvement, and other marketing services

CHOOSE
ONE OPTION
BELOW

CHOOSE
ONE OPTION
BELOW

PROGRAM 2
for all primary pages
PROGRAM 2
for home page
+
PROGRAM 3
for other primary pages
PROGRAM 3
for home page and
other primary pages
PROGRAM 2
for home page alone
PROGRAM 3
for home page alone
1. SEARCH ENGINE PROMOTION PROGRAM



Our Search Engine Promotion Program involves 2 steps.
A. Research appropriate target phrases for maximal search engine visibility, based on:
your site's access records, to determine the key phrases via which people are currently finding your site. (1 hour)
the competition's websites,  to determine which key phrases are succeeding for them and how they have designed their pages. (2 hours)
the pages on your site that have distinguishable content and could function well as "doorway pages" for promoting good key phrases (1.5 hours)*
your own suggestions for additional key phrases to target.
We then combine these studies to come up with a set of target phrases for the major search engines. (1.5 hours)

B. Create pages that specifically target each key phrase, by:
Converting key pages already existing on the site (other than the home page) into "doorway pages" that are geared toward greater search engine visibility. Currently few of the pages other than the home page even have metatags, let alone are fully optimized to promote a certain key phrase.
Creating new "doorway pages" that are customized to particular key phrases (and ideally particular search engines). These pages are not reachable via the main website, but are specifically designed to bring people into the site in the manner of a "side door". These pages would be created to fit in with the design style of the rest of the site. These pages promote key phrases that can't be promoted (very well) by any of the existing pages on the site.
Creating a special "hallway" page that contains links to all the doorway pages. (See Site Submission for more explanation.)
Twenty-one areas of a web page effect the search engine ranking of a page (including metatags, hidden comments, headers, picture captions, etc.). We adjust all 21 areas as we either modify existing pages or create new pages.
A LITTLE KNOWLEDGE IS A DANGEROUS THING!
Here are some common mistakes made by beginners who think they "know it all":
They overuse keywords in the title, body text, link text, alt image tags, headers, meta tags, and at the bottom of the page. They don't know about keyword density.



They put misleading keywords such as "MP3" or "Brittany Spears" on their page, hoping they will attract visitors looking for another topic. They don't know that search engines notice and penalize this sort of thing.
EXAMPLE (exact amount of labor depends on results of step A, followed by your choice of how many pages among those recommended you want to budget)
5 existing pages optimized into doorways (@ 25 mins per page)

125 mins.

10 new doorway pages created, for each of 5 phrases, and each of two clusters of (similarly behaving) search engines

400 mins.

"doorways" index page created

15 mins.

EXAMPLE TOTAL
*Contact us for current hourly rates.
If your budget can accomodate it, more doorway pages usually bring better results – not surprisingly: each doorway page is bringing in traffic for a different word or phrase, and most market niches have a significant number of associated search-worthy phrases, in some cases, even hundreds. (For a good example, see below.)
Note: If you are not hosting with us, we will need FTP access to your site (and your permission to make inobtrusive changes to existing pages) in order to carry out this step.

TIME FRAME AND PAYMENT SCHEDULE

2 weeks (with how much we do in step B based on a dialog between you and us, after step A has been completed). Payment for step A due as initial deposit. Payment for step B due at completion of step B.
Because search engines and their listings are constantly changing, we suggest that you follow up our Search Engine Promotion Program with our Monthly Maintenance Program.
2. DETAILED PAGE OPTIMIZATION

For those whose marketing budget is tight, we recommend our Detailed Page Optimization, at least on your home page.No new doorway pages are created, but your home page (or the page of your choosing) is tuned up for search engine promotion.
A. Research appropriate target phrases for maximal search engine visibility.
B. Modify your web page to specifically target the most important key phrases.
Note 1: If you would like to have more than one page optimized, we will only charge you once for research. So:
optimizing 2 pages would be 3.5 hrs labor (1.5 hrs. research + 2 hrs page modifications);
optimizing 3 pages would be 4.5 hrs labor (1.5 hrs. research + 3 hrs page modifications);
etc.
Note 2: The pages you should consider submitting for our Detailed Page Optimization are "primary content" pages which emphasize (either through copy or graphics or both) topics that people might enter in the search engines. Examples of pages that are not "primary content" pages are: "Contact Us", "Links", message boards, guestbooks, sign-up form pages, etc.

If you'd like us to go through your site and recommend pages for optimization, we'd be happy to do so. We charge 2 mins. labor for each page we recommend.
3. QUICK PAGE OPTIMIZATION

Another program for those whose marketing budget is tight, is Quick Page Optimization. We skip the research (described in Detailed Page Optimization), and use our extensive search engine promotion experience to do a rapid "make-over" of that page, to make it more attractive to search engines relative to phrases that we surmise are the ones worth promoting via this page. Our "web page make-over" includes:
Addition or tuning of keyword, description, and other meta tags
Examination of your web page title, modification as appropriate
Examination of 15 other critical areas of the page, modification as appropriate

Upgrade a particular page on your website for improved search engine visibility.
Note: The pages you should consider submitting for our Quick Page Optimization are "primary content" pages which emphasize (either through copy or graphics or both) topics that people might enter in the search engines. Examples of pages that are not "primary content" pages are: "Contact Us", "Links", message boards, guestbooks, sign-up form pages, etc.
If you'd like us to go through your site and recommend pages for optimization, we'd be happy to do so. We charge 2 mins. labor for each page we recommend.


Submit your site to the major search engines over a 12+ week period.
Because the search engines are always changing their rules of operation, we have developed a conservative approach, that takes a while, but gets the best results. Why the conservative approach? Because search engines can penalize you if you submit too many pages. So we test the waters, and only submit pages when that has been proven to be a reasonable option. Also it is advantageous to submit our "hallway page" (the page that has links to all the key pages on your site) first, because many search engines will then go ahead and index not only this page, but all the pages to which it links as well.
The major search engines we currently work with are:
7Search
About.com / Sprinks
Ah-Ha
Alta Vista
All The Web / Fast / Lycos
AOL Web Sites
Ask Jeeves / Teoma
FindWhat
Google
HotBot
Iwon
Kanoodle
Looksmart
MSN
Netscape
OpenDirectory
Overture (formerly GoTo)
Xuppa
Yahoo*
We adjust which search engines we focus on over time, based on which are the primary traffic producers.
According to Nielsen/NetRatings, a company that measures the impact of the Internet and new technologies on commerce and marketing, the top five search engines during January of 2003 were Google, Yahoo, MSN, AOL, and Ask Jeeves. The rankings take into account the percentage of the entire Internet population that visited each site (audience reach) and the average number of minutes spent per visitor at each site. These numbers were adjusted to exclude non-search portal traffic such as email retrieval.
The exact time required for STEP 4 in our Search Engine Promotion Program is a little hard to predict. The search engines to which we'll be submitting do updates anywhere from every 2 days, to every 6 weeks, and occasionally longer periods whose length is unpredictable; if we are very fortunate, an update for every search engine will occur shortly after we do a submission.
TOTAL: 5 hrs. per month for 3 months
*Yahoo's directory entry is very difficult to change once a site has been submitted, so we generally only submit it for you if it hasn't been submitted already.
When it is relevant, we also identify and re-design any existing web pages that:
a. are currently linked to by top-30 listings on some major search engine; but
b. are not suitable as entry points into your current site design
(i.e., they were part of an older version, but are still listed on the search engines)
TIME FRAME AND PAYMENT SCHEDULE

10 or more weeks, with results appearing as early as 2 days. 50% deposit due up front. Balance of payment due upon completion of the 10+ week period.
5. BASIC MAINTENANCE PROGRAM

Some of the major search engines tend to be fairly stable in their listings. For example, your listings on Yahoo will tend to stay very steady. Other listings may even tend to get better with time; for example Alta Vista tends to give a higher rating to older listings. For other search engines, your listings will tend to persist, but gradually decline over time without further care, as the engine itself changes, and as competitors add or improve their own listings. Still other search engines are more volatile, and tend to require constant care. However, all search engines are potentially unpredictable, and all have been known to do unpredictable things (such as suddenly dropping your listings altogether), either frequently or infrequently.
The statistics for any given search engine over months of time are almost never just a steady increase. Sometimes a change in that search engine will drop a site completely off the search engine, and new work must be done to ascertain the reason, as well as the best way to getting good listings again on that engine. This is why we recommend our monthly or bi-monthly maintenance program, whose purpose is to keep the numbers up there, and when possible, increasing.
So the long term behavior that we strive to achieve is not a "steady upward curve" – which is impossible given the constantly changing search engines, and, secondarily, with the competition always doing their own search engine promotion work – but one that looks more like the usual profitability curves (for the same reason), responding to the problems that inevitably arise, and bouncing back even better:


offers a Basic Maintenance Program whose features include:
Focus on maintaining your current listings on the major search engines.
Improvement of your listings where possible.
Re-submission of your web page(s) as often as is appropriate, for maximum benefit.
Tracking of the visitors to your site, the search engines that brought them there, and the phrases they used.
Updating of metatags and other page contents in response to the tracking described in (4).
Exploiting a lot of very specialized knowledge about how to get the best results for each search engine.
In comparison, most maintenance programs perform (1), (2), and (3), but not (4) and (5). In other words: they don't necessarily connect what they do with the actual traffic to your site.
Our Basic Maintenance Program is best applied after we have already optimized your web pages – either through our top-of-the-line Search Engine Promotion Program, or any of the other options listed in our Marketing Service Table – but it can also be done by itself.

Our basic monthly program can be extended or customized in all kinds of ways. Talk to us about what would best work to promote your business.
| | |
| --- | --- |
| MONTHLY MAINTENANCE | TOTAL: 4+ hrs each month* |
| BI-MONTHLY MAINTENANCE | TOTAL: 4+ hrs every 2 months* |
*Total time varies with each client and the associated services


Villas International – Over 25,000 worldwide vacation rentals, from the second oldest international vacation rental company in the United States. "Experience the world from the inside."
Our promotion of Villas International: 1999-2002
We have used 250 doorway pages and 16 "mini-websites",
and have tracked 500 key phrases.
TOP-RANKED LISTINGS OF KEY SEARCH PHRASES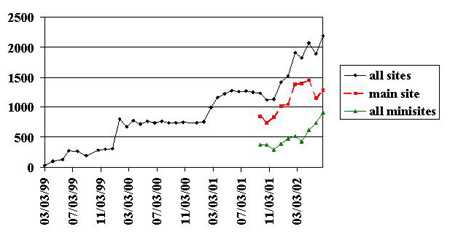 VISITORS PER DAY
Read our article on Marketizing Your Website, to understand why website design and website marketing must be tightly integrated in order to create an Internet profit center.