I

n this 2-part article,

Dr. Tong

promotes ideas that you just won't read anywhere else about the intimate connection between web design and web marketing, based on his 20 years of experience with the Internet.
Hundreds of thousands of websites – even many attractive ones – are out on the Web, but relatively few of these draw any significant traffic whatsoever. Why? Because these websites are not marketed appropriately, and because they are not marketized. I've coined the phrase, marketized website, to indicate a website that has been designed with the following characteristics in mind:

We'll consider each of these characteristics in turn. Then, in Part 2 of this article, we'll focus on a couple of important issues:
why to steer clear of the $500 websites or the "do it yourself" websites – you get what you pay for! What is involved in designing a website and where the costs come from.

how to keep the cost down and the quality high – via:

1. Good education
2. Effective division of labor
3. Cooperative communication
4. Intelligent design process
SITE INTERACTIVITY




Not too long ago, our staff submitted a website to a particular Internet search engine, and the form being filled out asked the following question:
Indicate if you have any of the following on your site:
Registration with free entry
Subscription fee and password
Newsletter/contest/game
Posting/BulletinBoard
Promotional Sales for Limited Time
Search Engine
Shopping Cart
Order Form
1-800 Ordering
Credit Card/CyberCash Payment
Java

While not a complete list, this is an excellent question for an Internet search engine to be asking! Why? Because every one of these devices helps promote interactivity – the shopping cart encourages visitors to select items; the bulletin board encourages visitors to participate in ongoing discussions; etc. And a hip search engine staff is going to rate higher those sites with greater interactivity because they know: interactivity and popularity (i.e., traffic) go hand in hand.
And a smart website marketer knows that the greater part of most Internet profits are comprised of repeat customers. So the smart Internet marketer uses every means to invite visitors into an opt-in relationship and to help to cultivate that relationship over time.



YOUR USP-TAILORED WEBSITE


Parrillo Performance is a company that specializes in supplements, training programs, and literature catering to body builders and anyone who takes an interest in significantly improving the fitness of their body. When they came to us, their website prominently displayed their products on the front page. And their logo had a high-tech look that works for certain companies.

BEFORE UPGRADE: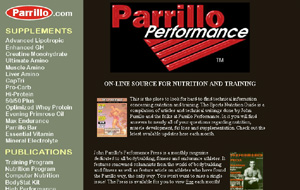 But Parrillo Performance wasn't satisfied with their "Website Performance". So they came to us. And we saw immediately what was needed: there were many companies that sold the same general types of products, and catered particularly to bodybuilders. But what truly made their company and its product line unique was that it was all based on the decades of experience of its founder, John Parrillo, gleaned from working with the country's top bodybuilders. In short: the company's Unique Selling Proposition was: John Parrillo himself!

So we completely re-designed the site. Every aspect of the site – from section breakdown, to graphics, to copy, to testimonials, etc. – was re-designed to communicate the uniqueness of John Parrillo's ideas, and therefore, the uniqueness of his product line and services. And – even though the primary purpose of the website is to sell products – we downplayed the appearance of the products themselves on the valuable web real estate that is the front page; the first link in the sales argument chain here was to communicate the benefits of working under John Parrillo. Most of the front page was re-dedicated to that purpose, and, from there, to enticing visitors to this or that link that elaborates on what John has accomplished and how that was a benefit. But... all roads here are designed to lead to Rome, and "Rome" in this case is the product catalog and the order forms.
AFTER UPGRADE: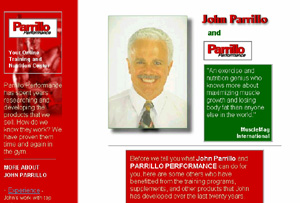 And of course there were the more straightforward aesthetic changes that are simply a part of every "website makeover" that we do: replacing that heavy (and no longer hip) black and green color scheme with the lighter and more energetic red and white scheme.

I am really impressed – the site looks great and I am very happy. John as well. Response to the site changes has been very strong – people have been calling in, commenting on the improvement. As soon as we opened we made sales - starting at a thousand dollars going up from there. Putting your marketing program into gear will shift us into warp speed!

I have a huge list of email addresses (several hundred in the first few weeks) of people signing up for the newsletter, and now I've got to deliver! Everything is going really well for us, and with the design templates and instructions you sent, I've been able to make all kinds of changes to the site myself – can you believe it? Thanks a million. You have made my life a hell of a lot easier.
Steve Hampton
Marketing Director
Parrillo Performance
What's the fundamental lesson here? If you really want your website to become an Internet profit center, you
must
spell out throughout your website what is unique about your products or services; you want your web designer to take your USP and communicate it through every element of the website design.
GOOD DESIGN / SUBLIMINAL MESSAGES


Now, you're probably thinking, "he's going to write about quick-loading but attractive graphics, succinct, easily accessible cybercopy with punch, a website that is highly functional, etc." Well, I'm not – because everybody writes about that! We take this level for granted in our design work, as evidenced by our award-winning sites (selected by Yahoo's "Pick of the Day", featured on MS-NBC's "The Site" program, etc.) But here I'm going to write about things you don't read about elsewhere.
Professional-looking, current generation website. You have anywhere from 5 to 10 seconds to convince your visitor to stick around and spend some more time. Because he or she is spending time at far fewer sites than he or she is rejecting, the first thing your visitor is applying is his or her rejection filters, the signs your visitor is looking for to convince him or her to move on. These are generally operating on a subliminal level. So it doesn't matter how much great copy you have, or great sales arguments awaiting your visitor – if any of these subliminal buttons are pushed, many of your visitors are not even going to wait to take a look at that copy.
The "unprofessional website" filter. There are the obvious things that immediately suggest "unprofessional" or "low budget": typographical errors, an evident raggedness in the graphic designs, and so forth. The structure of the website as well raises red flags: there are about 4 or 5 sections that visitors are expecting to see – they are part of an unspoken standard that has been evolving across the entire Web community – and whose absence often immediately signals "mom and pop store" level. And a website that immediately throws you into a product catalog (and which contains only a product catalog), signals a "fly-by-night business".
The "unhip website" filter. The indicators of a "current generation" or "state of the art" website keep evolving, and to be displaying the signs of an earlier generation website is a common reason for your visitor to hit the "Back" button.

A 1950's science fiction film. Let's look at a humorous example from another medium that will help make the point. In the history of science fiction filmmaking, "Star Wars" was the film that created the great divide. Every science fiction film after "Star Wars" had to have "Industrial Light and Magic"-strength visual effects and sound effects, or it was guaranteed to flop at the box office. And of course, to the post-"Star Wars" viewer sensibility, looking back at the science fiction films of the 1950's, in which the earth looked like a globe rather than a planet, and the strings pulling the model rockets along were often blatantly visible – is pretty funny! But not something that cultivates much respect.
So if your newly created website looks like a 1950's science fiction film, you can be sure your visitor will hit the Back button. While it isn't nearly sufficient, being hip is necessary.
Something like a well-written book. A well-designed website is something like a well-written book – the first sentence grabs you. You don't want to put it down, until you've reached the close. And then you want to read it again.
WEBSITE DESIGN AND MARKETING: A SEAMLESS INTEGRATION



Consider yourself relatively well-informed web-wise if you already know any of the following facts – most people don't. More surprisingly, most web designers don't!
| | |
| --- | --- |
| | The design choices for a given web page have a very strong impact on how high a web page is listed on the search engines. There are over 20 distinct "pieces" of a web page that can either be designed well or poorly relative to search engine ranking. |
| | Some of the primary search engines and Internet directories are only accepting a fraction of the sites being submitted to them (e.g., Yahoo accepts only 2 out of every 10). Site design plays a large role in who gets accepted. |
| | The choices for organizing the site into sections, and the choices for naming the files and file directories that comprise the website strongly impact search engine ranking. |
| | The choice of your domain name impacts virtually every marketing channel. |
| | The most important Internet marketing channels record your entire history as an Internet presence; they never forget anything. The idea, "I'll just get a site up there, quick and dirty, and then improve it over time", has a cost. Like a politician with a past, a website is in public view, and your marketing efforts down the line may have to compete with or cope with the records of earlier design or marketing mistakes, or less than ideal communications. |
One lesson we can draw from this – if possible, choose a single company to do (and which has the expertise and the means to do) the design, the marketing, the upgrade, and (ideally) the hosting of your website. Two reasons: there is a large overhead in "breaking in" a new company; and a company that specializes in doing the whole ball of wax will design the website from the start with a marketing approach, and will neither let design issues outweigh marketing issues (resulting in a pretty site that no one visits) nor let marketing issues outweigh design issues (resulting in a search-engine-friendly but humanly-off-putting site) – they will instead create a marketized website for you, that will not only attract visitors, but keep them coming back.