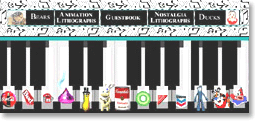 We designed this site's navigation bar to be a visual double entendre on the company name: "Name That Toon". The piano keys work on the actual site!
Dear Chris,

As you know, Name That ToonTM creates the artwork for the art market for The Coca-Cola Company, Anheuser-Busch, M&M/Mars, Pillsbury, Hershey, Campbell Soup, Nabisco, and others. Due to the high profile image of our clients, it was most important for us to establish what we felt was the most striking and professional website possible.
I just wanted to write you this brief letter to tell you how happy we are with what you have created for us. The artistic flair and technical innovations have definitely made this one of the most classy sites on the worldwide web and the feedback we have received has only confirmed this. I appreciate all the extra hours you put in toward making this site a great success for us. I wish you and

only the best.


Sincerely,

Craig Wolfe

President
P.S. I am doing a new bear and artwork for PEZ. It was probably one of the quickest approvals in their history. The vice-president for PEZ literally checked out the website, was greatly impressed, and approved the deal with hardly any additional information. My licensing agent was amazed! Good work.